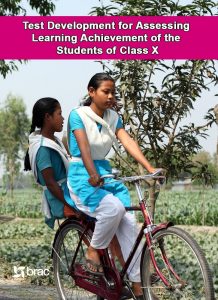 Abstract: This report describes the process of test development for assessing learning achievement of the students of class X. Considering the learning objectives as the basis for testing the students this instrument  developed  four  test  batteries  –  one  each for  Bangla,  English,  mathematics  and everyday science. Each battery contains 20 items totaling 80 for the whole test. Subject-wise reliability of the instrument varied from 0.75-0.89. However, the whole test was found 95% reliable. Content validity of the test items was ensured through following the national learning objectives, and by the teachers and the national level experts. Finally, minimum criterion for each subject was set through subject-wise median analysis.
Test Development for Assessing Learning Achievement of the Students of Class X

This report can also be found in BRAC website. Here is the link.